With international demand and promises to drastically reduce CO2 emissions, wind power is playing an ever-increasing part in the generation of energy.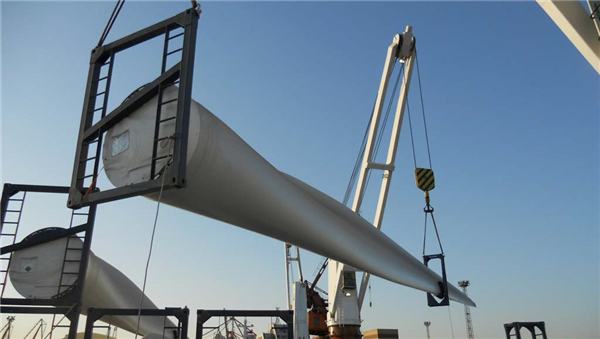 This calls for a demand in not only more wind turbines, but more importantly larger wind turbines. While many industries measure growth by the number of units moved, the wind industry measures growth by output. The generating capacity of wind turbines have doubled from 1.5 to 3 megawatts in recent years.
These days the size of a wind turbine can be 100 meters or more. The turbines are getting heavier, the rotor blades longer and the tower components larger. The nacelle, the hub and the blade may easily weigh over 75, 24 and 9 tons respectively. Each windmill component has its own special characteristics - the tower is big and heavy, the blades are long and wide and the nacelle is small and heavy. Taking all of this into account, problems with loading and securing often arise.
Therefore, it goes without saying that care must be taken in the shipment of components for a wind farm, which in addition to its bulky and heavy nature is also very sensitive. Many European manufacturers of wind turbine components are so careful about how their freight is handled that they send engineers from the factory to oversee and inspect the loading and stowing process.
Another challenge in the transportation of wind turbines is that this product constantly changes, resulting in the need to continuously review and modify best practices employed. No two wind turbine shipments are exactly the same; however, some common guidance is always useful. Vestas, GE and Siemens, as the largest producers of windmills, have their own transport manuals which needs to be strictly complied with. These manuals also require the appointment of experienced surveyors.
Loss prevention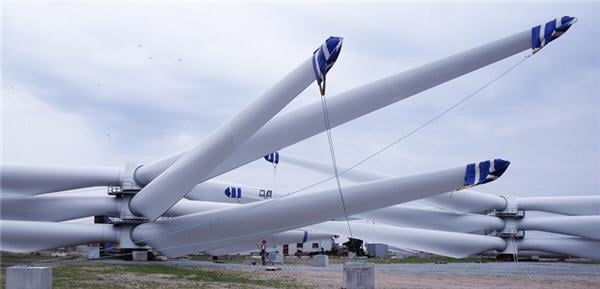 BEFORE LOADING:
In addition to the manufacturers personal transport manual, SOLAS Chapter VI and VII requires a Cargo Securing ("CS") manual for all types of ships engaged in carriage of cargoes other than solid and liquid bulk cargoes. Having an approved CS manual is a statutory requirement. Annex 13 of the IMO Code of Safe Practice for Cargo Stowage and Securing provides methods for calculating satisfactory securing arrangements when loading non-standard sized cargoes. LASHCON is a MS Excel based calculation tool which calculates accelerations and balance of forces in semi- and non-standardised lashing arrangements.
It is important to remember the sensitivity of the cargo, and the great values involved. Just one blade may cost around USD 170,000.
When in the planning stage before loading, it is of utmost importance to carefully go through the carrier's stowage and securing plan. The surveyor should discuss and check the following with the ship's master and/or the carrier's representative on shore.
Check the cargo condition in the warehouse or port
Record and report even minor damages
WHEN ON BOARD:
Check the stowage plan. Is it reasonable?
Check hatch covers and holds
What were the last three cargoes carried on the vessel?
Are there any restrictions on shore facilities and lift fittings?
Is proper dunnage applied?
Is there sufficient bedding on tank tops and/or hatch covers in compliance with its strength limits?
Check condition of dunnage, bedding and lashing materials
Is the securing sufficient and in accordance with LASHCON?
DURING LOADING:
Stevedores should be fully aware of the loading requirements:
Slings, shackles and hooks should be of sufficient working load for the task
Ensure a proper and safe loading manner is being used
Cargo should be loaded according to the plan
If changes are made to the stowage plan, inform all involved parties accordingly
Make sure lashing chains are used correctly
Monitor closely the loading operation to prevent any damages
Pay extra attention when loading on deck
Report all findings, include photos and keep a log of all events
Experienced surveyors can be instructed to overlook the loading process and correctly record all observations


An experienced surveyor must be present at all times to overlook the loading process and report all findings.


Blades, which are heavy, wide and long, require careful planning and expertise to ensure proper stowage.


It is of utmost importance to ensure all lashing chains are used correctly and that all slings, shackles and hooks are of sufficient working load for the task.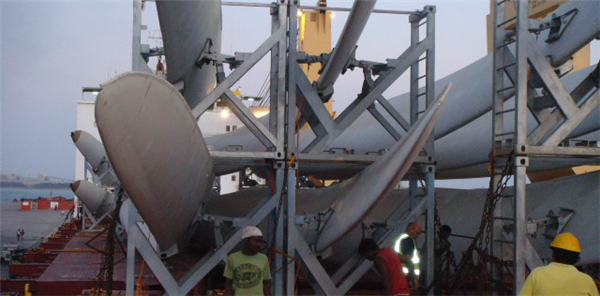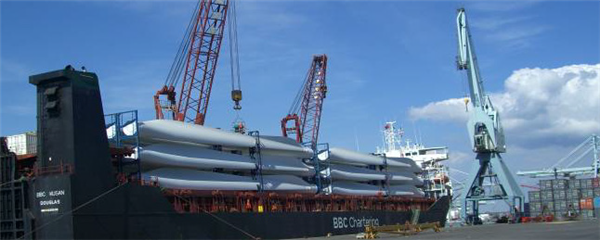 AFTER LOADING:
Together with the Chief mate:
Check the cargo for any damages, report if any found
Check all securing
All chains should be tight and in the same tension
Weld on all cross points
Check all welding jobs
The instructed surveyor to issue a cargo condition report
APPOINTMENT OF SURVEYORS:
It is always important to appoint surveyors with special knowledge about wind turbines/heavy cargo. Typical knowledge should include, but not limited to:
Stability calculation
Risk assessment
Lifting gear limitations and operations
Lashing and security capacity estimation
Knowledge about welding
Experience in handling specialized cargo such as windmills would be beneficial
Claims
As we are dealing with cargo of high value, large claims may arise out of the sea carriage of wind turbines.
DAMAGE WHILE LOADING
A typical claim can arise as a result of insufficient care of cargo during loading, where parts are damaged. In cases like these, a good surveyor and report from his side might be of help when determining liability between the parties.
ON-DECK CARGO
When loading on deck, the cargoes might be exposed to shifting unless properly secured. On deck bills of lading should always be used.
POOR STOWAGE
There are also situations where cargo has fallen overboard as a result of poor securing and bad weather. Windmill farms often consist of several sets of windmills, and if, parts of one or more are damaged/ lost during a sea voyage, the whole project could be delayed, resulting in a huge underlying loss. Since windmills are complex and technical, it is hard to obtain spare parts at the local port of discharge. This may result in a substitute part needing to be built and a new shipment, resulting in a loss of both time and money.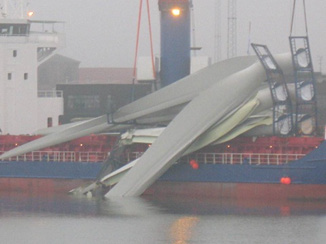 Special attention must be given to on-deck cargo, which is susceptible to shifting unless properly secured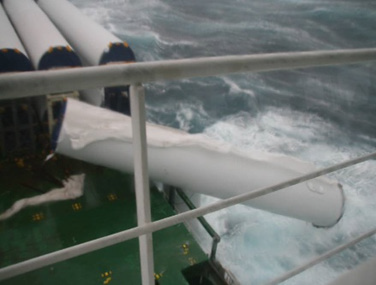 Poor stowage can result in extremely large claims
Contractual loss prevention
KNOW YOUR CHARTERER
Is he financially secure?
Does he have P&I cover? Is this with an IG club?
Is he specialized in the trade? If not, he may want to take shortcuts
Has he confirmed on deck bills will be issued where carriage is on deck?
Do you know the value of the cargo?
THE CHARTERPARTY
Liability for stowage, loading and discharge should be on the charterer. Hence it is important to know that your charterer is financially secure and has access to good experts and surveyors to assist, should there be a problem during loading/ discharge.
With acknowledgment and thanks to:
China CMS Marine Survey Co. Ltd www.cmssurveys.com
Andrew Moore & Associates Ltd www.andrew-moore.com