Piracy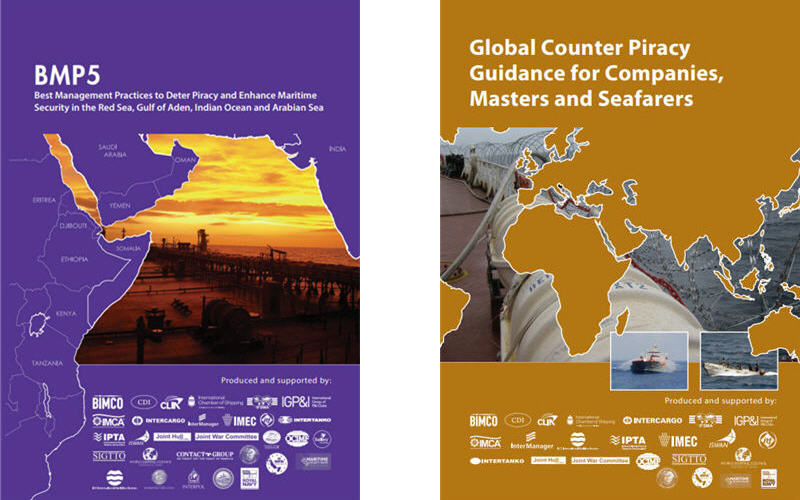 BMP5 and Global Counter Piracy Guidance printed copies out now
Reference is made to the announcement in June 2018 of the launch of a new website www.maritimeglobalsecurity.org providing comprehensive information on maritime security, including online versions of BMP5 and Global Counter Piracy Guidance.
Printed copies of BMP5: Best Management Practices to Deter Piracy and Enhance Maritime Security in the Red Sea, Gulf of Aden Indian Ocean and the Arabian Sea and Global Counter Piracy Guidance for Companies, Masters and Seafarers are available now from Witherby Publishing.
Contact Emily Christie (emily.christie@witherbys.com or +44 (0) 1506 463227 with the following details to place your order:
Name
Company
Address
Contact telephone number
Number of books required
(If you prefer to order by the box, BMP5 is 120 copies per box and Global Counter Piracy Guidance is 140 copies per box).
The printed copies are available for free, thanks to the generous support of the co-authors: BIMCO, ICS, IFSMA, IG P&I Clubs, Intercargo, Intermanager, INTERTANKO and OCIMF.
Electronic copies were released in June 2018 and are available to download from the websites www.maritimeglobalsecurity.org and ocimf.org.
Contact Russell Pegg, OCIMF Security Adviser, with any questions at russell.pegg@ocimf.org.
---