Invasive species
Updated
Asian gypsy moth: Brief summary of the inspection procedures
Introduction
The Asian Gypsy Moth (AGM) is an exotic and highly destructive forest pest which is native to Far East countries such as Japan, Russia, China and Korea. AGM have the ability to cause extensive defoliation of trees, either killing them or leaving them weakened and open to other diseases and pests. The AGM's flight season, i.e. the period during which the females lay eggs, normally runs between June and September. Therefore, ships calling in those Far Eastern ports where AGM are found in high density during such period are likely to be infested with egg masses on some part of the cargo or external area of the vessel.
Female AGM are attracted towards bright lights, thus any part of the vessel which is lit up has a high chance of being deposited with egg masses. Such egg masses are extremely tough and resistant to changes in temperature as well as moisture. Once deposited on the structure of the vessel, usually in sheltered locations, they travel well and are very tough to displace. After they hatch, the ability of the female moth to travel as far as 21 nautical miles, along with its voracious appetite to feed on trees and shrubs, makes it a highly invasive species that poses a serious threat to the landscape and natural resources of a country.
Due to these reasons, certain countries where the AGM is not indigenous have put into place procedures in order to prevent vessels which may be carrying such pests from entering their ports. They include the United States, Canada, Australia, New Zealand and Chile. Such procedures consist of the requirement of certification from the port of departure in high risk areas verifying that the vessel is free from AGM and also inspections at the port of arrival of ships suspected of carrying AGM onboard. Vessels which fail to comply with such requirements or which are found to be carrying AGM after inspection may be ordered into international waters till they are deemed to be completely risk free.
The Association has previously urged all members with vessels calling at ports in China, Japan and Korea to ensure that their vessels are properly inspected and cleaned after any call to these high risk areas. Given the recent increase in the number of ships being inspected for signs of AGM's onboard, the following paragraphs contain a brief summary of the inspection procedures required by certain countries before allowing vessels entry into their ports.
The following outline has been prepared by Angad Dhawali who is an intern at our Singapore office.
North America: USA and Canada
The United States and Canada have jointly issued a notice highlighting the risks associated with as well as measures which are required for vessels which have called on ports in areas regulated for AGM during specified high risk periods. A link to the notice, dated February 2015, is attached to this update.
The regulated areas considered as high risk by the US and Canadian authorities are given in the table below:
| | | |
| --- | --- | --- |
| Country | Port or Prefecture | Specified period |
| Russian Far East | Nakhodka, Ol'ga, Plastun, Pos'yet, Russkiy Island, Slavyanka, Vanino, Vladivostok, Vostochny, Zarubino, Kozmino | 1 July to 30 September |
| People's Republic of China | All ports in northern China, including all ports north 31°15´ | 1 June to 30 September |
| Republic of Korea | All ports | 1 June to 30 September |
| Japan, Northern | Hokkaido, Aomori, Iwate, Miyagi, Fukushima | 1 July to 30 September |
| Japan, Western | Akita, Yamagata, Niigata, Toyama, Ishikawa | 25 June to 15 September |
| Japan, Eastern | Fukui, Ibaraki, Chiba, Tokyo, Kanagawa, Shizuoka, Aichi, Mie | 20 June to 20 August |
| Japan, Southern | Wakayama, Osaka, Kyoto, Hyogo, Tottori, Shimane, Okayama, Hiroshima, Yamaguchi, Kagawa, Tokushima, Ehime, Kochi, Fukuoka, Oita, Saga, Nagasaki, Miyazaki, Kumamoto, Kagoshima | 1 June to 20 August |
| Japan, Far Southern | Okinawa | 25 May to 30 June |
For vessels which have called on areas regulated for AGM during the specified periods, as outlined in the table, the following measures are required:
Vessels must be inspected and must obtain pre-departure certification from a recognized certification body. A copy of the certificate, stating that the vessel is free of Asian Gypsy Moth life stages, must be forwarded to their US or Canadian agents. The inspections should be performed as close to vessel departure time from the regulated port as possible.
Vessels must arrive in North American ports free from AGM. To avoid facing inspection delays, re-routing and other potential impacts associated with mitigating the risk of entry of AGM to North America, shipping lines should perform intensive vessel self-inspections to look for, remove (scrape off) and properly dispose of or destroy all egg masses and other life stages of AGM prior to entering US and Canadian ports.
Vessels must provide two year port of call data, at least 96 hours prior to arrival in a North American port, to the Canadian or US agent. The agent is to ensure that this information is provided to US and Canadian officials.
In addition, vessels are reminded to ensure they are in good repair and decks are clear of debris and unnecessary obstacles to allow for thorough inspection both in AGM regulated areas and upon arrival in North America.
Where certification has been issued many days prior to ship departure from an area regulated for AGM, re-infestation can occur. Therefore, it is important that inspection and certification be conducted as close to time of departure as feasible. It is also of vital importance that a ship's crew ensures freedom from AGM by conducting inspection of the ship superstructure while en route to North America and removing and destroying all life stages of AGM detected. It is the responsibility of the shipping lines to meet all requirements for entry to the US and Canada for freedom from AGM and other pest concerns.
It is to be noted that, although the US and Canada are in full agreement on the requirement for AGM pre-departure certification and vessels arriving free from all AGM life forms (egg masses, pupae, adults), due to sovereign regulations and policies, there are differences in port-of-entry processes between the two countries.
In the United States, there is a joint programme between two government agencies in order to prevent the introduction of AGM. The inspection of vessels is carried out by the Customs and Border Protection (CBP) agency while the Animal and Plant Health Inspection Service (APHIS) determines the inspection requirements. The APHIS has published, under its "Manual for Agricultural Clearance", a document titled "Special Procedures for Suspect Asian Gypsy Moth (AGM) Ships". It contains details regarding certification and inspection requirements, including those parties which are authorized to issue AGM inspection certificates.
In Canada, the AGM programme is managed by the Canadian Food Inspection Agency (CFIA). All marine vessels arriving in Western Canadian ports from 1 March to 15 September, and in Eastern Canadian ports, from 15 March to 15 September, and which have visited ports during specified periods of risk for AGM during the current year or preceding year, that are located in the Russian Far East, Japan, the Republic of Korea, and all ports north of Shanghai (defined as all ports on or north of 31°15' north latitude) in the People's Republic of China must provide the following to the CFIA:
The "Plant protection policy" document contains details regarding the CFIA AGM requirements including the regulated areas and specified risk periods, vessel entry requirements and a list of recognized authorities for pre-departure inspection certificates.
The certificate must state that the vessel was inspected and found free from AGM from at least the last port of call in a regulated area during the specified risk period. A vessel without the required certification may not be permitted entry into Canada. CFIA may conduct inspections at designated offshore inspection sites as an alternative to refusing entry. A vessel calling on a Canadian port for a second time without the required certification may be refused entry to Canada. Upon inspection, if an inspector is not satisfied that the risk of introducing AGM has been mitigated, the vessel will be ordered out of Canadian waters and refused entry for up to two years during the AGM risk period for Canada or until the ship meets the necessary AGM entry level requirements.
All vessels arriving in Canada outside of the AGM risk period for Canada, which have visited ports in regulated areas will be permitted to enter Canadian ports without interruption. Such vessel is not required to possess a phytosanitary or other approved certificate in order to enter the port. However, such vessel may still be subject to inspection at any time during their stay in Canada to ensure that there is no trace of AGM onboard.
Australia
Vessels visiting Australian ports are not required to be certified free of AGM. The Australian Quarantine and Inspection Service (AQIS) "Quarantine Pre-Arrival Report for Vessels" requires ships to inform the authorities whether they have visited any ports in the Russian Far East high risk AGM area between 1 July and 30 September during the previous two years. If any such port has been visited, the vessel must disclose whether it has been inspected and declared free of AGM by an agricultural authority in Australia, New Zealand, Russia, Canada or the USA. Further, a copy of any AGM clearance certificate that has been issued must be forwarded to the AQIS. In addition, AQIS may inspect such vessels and their cargoes on arrival as they deem fit.
Since 2011, the Department of Agriculture, Fisheries and Forestry (DAFF) has been running an AGM vessel inspection programme from July to October, focussing on vessels arriving from AGM high risk ports in the Far East. DAFF conducts risk assessment for vessels during the flight season, and those vessels which are considered high risk for AGM are sent a questionnaire from the Maritime National Coordination Centre (MNCC) as part of the pre-arrival process. Based on the completed questionnaire, the DAFF will assess whether the vessel presents an AGM risk and whether a mandatory AGM inspection is required or not. DAFF's criteria for high risk of AGM is that the vessel must have visited a Russian Far East Port between 40°N, 60°N and west of 147°E during any period between 1 July and 30 September during the previous 24 months.
Members are advised to remain updated on the latest AGM entry requirements before proceeding to Australian ports from the specified high risk area during the flight season.
Further information regarding AGM can be found on the DAFF Biosecurity website.
New Zealand
Updated 13 September 2018
AGM compliance is administered by the Ministry of Primary Industries (MPI).
The operator, or person in charge of a vessel, must ensure that the vessel is free of AGM when it enters New Zealand Territory (which means New Zealand territorial waters and New Zealand ports).
If the vessel has visited a risk area during the 12 months immediately preceding the vessel's entry into New Zealand Territory and that visit took place during a risk period for the risk area, then the operator or person in charge of the vessel must ensure that the vessel does not enter New Zealand Territory unless he or she has obtained a valid certificate of freedom from AGM.
A valid certificate of freedom from AGM must be issued by a MPI recognized inspection body and must certify that:
(a) The vessel was inspected by a MPI recognized inspection body during the daylight hours on the same day as vessel departure; and
(b) The vessel is free of AGM
The MPI recognized inspection bodies are listed on MPI's website.
Any vessel which is high risk and does not have a valid certificate of freedom from AGM will be inspected to check that it is free from all life stages of AGM. The vessel may be required to be at a port determined by MPI or at a location at least 4 nautical miles from land for the inspection. The operator will be responsible for the cost of inspection and any treatment or egg mass removal directed by the inspector.
From 1 February 2018, an arriving vessel will be considered a high risk for AGM if in the previous 12 months it has visited any of the risk areas during the specified risk periods in the below Table 1 (sourced from MPI website).
Table 1. Proposed Risk Areas and Specified Risk Periods 2017




(Vessels have risk of AGM if, in the last 12 months, visited during corresponding risk period)

Country
Risk Area
Specified Risk Period
Russian Far East
South of 60º North and West of 147º longitude (excluding those ports on the Kamchatka Peninsula)
1 July to 30 September
China
North of latitude of 31º 15'N
1 June to 30 September
Republic of Korea
In all areas
1 June to 30 September
Japan - Northern
In prefectures of Hokkaido, Aomori, Iwate, Miyagi, Fukushima
1 July to 30 September
Japan - Western
In prefectures of Akita, Yamagata, Niigata, Toyama, Ishikawa
25 June to 15 September
Japan - Eastern
In prefectures of Fukui, Ibaraki, Chiba, Tokyo, Kanagawa, Shizuoka, Aichi, Mie
20 June to 20 August
Japan - Far Southern
In prefecture of Ikinawa
25 May to 30 June
Summary – New Zealand entry requirements
Vessels that, in the past 12 months, have visited one of the Risk Areas during the Specified Risk Period must:
(a) Obtain and present a valid certificate of freedom from AGM issued at the last port of call in Risk Areas; and
(b) Forward a copy of the certificate of freedom from AGM together with previous port of call data to MPI at least 48 hours prior to arrival.
Information available from MPI
MPI website: www.mpi.govt.nz.
The website vessel arrival process steps (https://www.biosecurity.govt.nz/importing/border-clearance/vessels/arrival-process-steps/) provides an overview of all requirements applicable to vessels arriving in New Zealand.
Approved inspection bodies: https://www.mpi.govt.nz/dmsdocument/19907/loggedIn.
CRMS: https://www.mpi.govt.nz/dmsdocument/19757/loggedIn.
Guide: https://www.mpi.govt.nz/importing/border-clearance/vessels/arrival-process-steps/hitchhiker-pests/.
Chile
The Chilean Agriculture and Livestock Service (Servicio Agricola Y Ganadero (SAG)) is responsible for preventing the entry and spread of harmful organisms that can have an adverse effect on their environment and the ecosystem. In February 2014, legislation was introduced requiring vessels to be in possession of a phytosanitary certificate if they visit one or more ports in Chile after calling on an area where AGM is present. The regulated areas and their high risk periods are the same as those specified by the US and Canadian authorities.
The vessel should come issued with an Official Phytosanitary Certificate by a recognized phytosanitary authority, corresponding with the last port of permanence or departure located in an area of AGM presence, or another Certificate issued under the supervision or authorization of the recognized phytosanitary authority and with previous SAG approval. The vessel representative must provide the SAG with a copy of the logbook or port list showing the vessel's ports of call during the past two years, at least 24 hours prior to arrival at the Chilean port.
If a vessel arrives in Chile without the necessary phytosanitary certificate, or the certificate does not meet requirements specified by the SAG, then the vessel will be inspected on arrival and such inspection must take place in daylight. Otherwise, the SAG will request a denial of free pratique from the corresponding authorities until the required lighting conditions are available.
If egg masses are found, then cleaning, phytosanitary treatment and a re-inspection of the vessel will be required. If live AGM larvae are found, the vessel will immediately be sent out to anchor for cleaning and re-inspection. In both cases, free pratique may be denied until the SAG's cleaning requirements have been met.
Even if vessels has visited an AGM affected area outside the female flight period, the SAG may randomly inspect such vessels for up to two years thereafter.
For further details, please see the English Translation of Resolution 8870/2015, provided courtesy of our correspondents in Chile, Cave & Compañia Limitada.
BIMCO AGM Clause for Time Charter Parties
BIMCO has issued a new clause which provides a simple and practical solution focussing on the basic obligations and responsibilities of owners and charterers when dealing with the Asian Gypsy Moth.
Sub-clause (a) sets out the owners' obligation to deliver the vessel free of AGM and also to provide an AGM Free Certificate on delivery if the vessel has traded to an area where there is a risk of AGM infestation within the last 24 months prior to delivery. This period is consistent with the regulatory requirements in several major trading states.
Sub-clause (b) sets out the charterers' obligation to take all reasonable steps at their expense to mitigate the risk of infestation when trading the ship in areas where AGM is found. If infestation does occur, it will be the charterers' obligation to ensure that such infestation is removed from the vessel and they must also obtain an AGM Free Certificate. Notwithstanding the issuing of such a certificate, should an infestation of AGM be found or suspected, the charterers shall also be responsible for any consequences whatsoever.
Sub-clause (c) states that the charterers must redeliver the vessel free of AGM and also provide an AGM Free Certificate, if relevant.
The full text of the Asian Gypsy Moth Clause for Time Charter Parties can be found in the clauses section on BIMCO's website at www.bimco.org.
Members are advised to ensure that the wording of any existing charterparties takes into account the division of responsibilities with respect to the risk of infestation by AGM.
Asian Gypsy Moth Photographs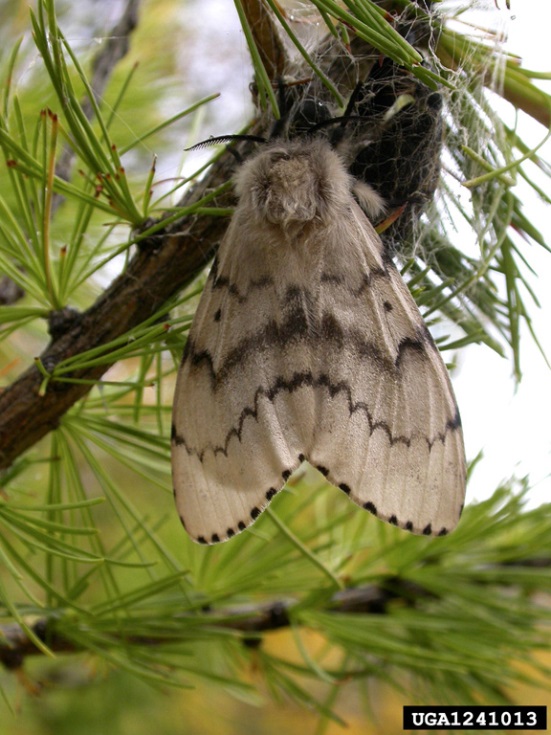 Asian Gypsy Moth
John H. Ghent
USDA Forest Service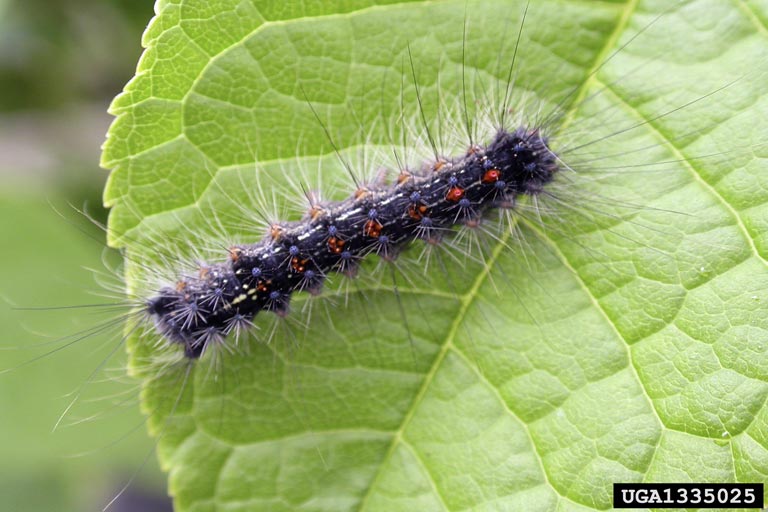 Asian Gypsy Moth: Larvae
John H. Ghent
USDA Forest Service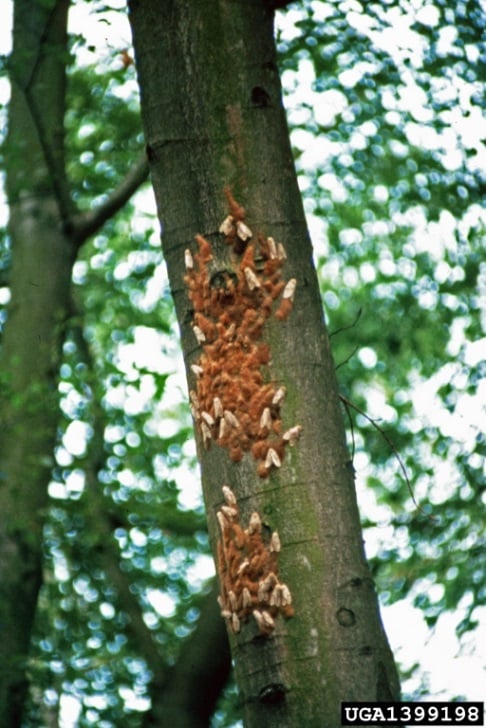 Asian Gypsy Moth: Infestation
Manfred Mielke
USDA Forest Service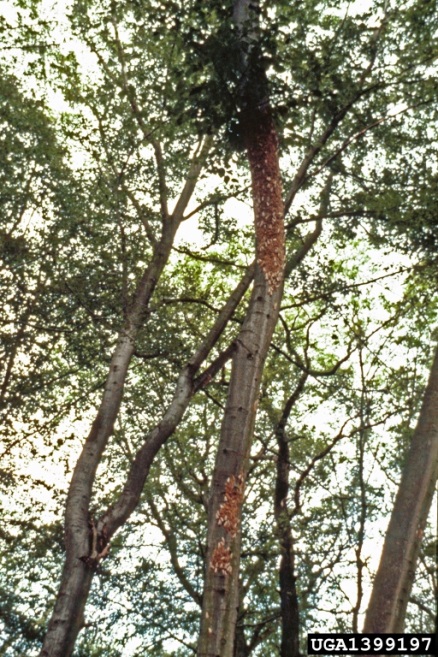 Asian Gypsy Moth: Egg masses
Manfred Mielke
USDA Forest Service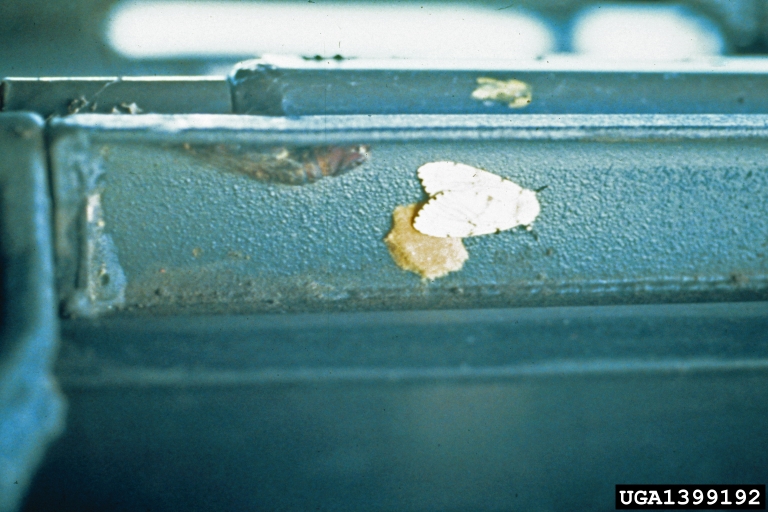 Asian Gypsy Moth: Female and egg mass
Manfred Mielke
USDA Forest Service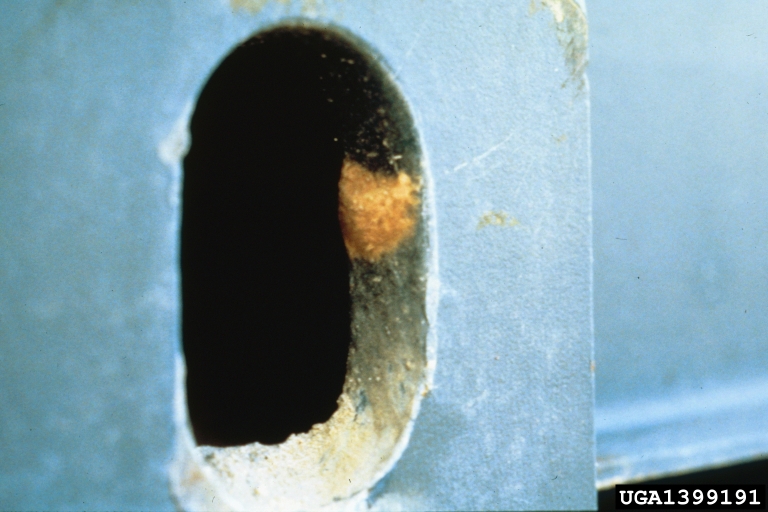 Asian Gypsy Moth: Female egg mass on shipping container
Manfred Mielke
USDA Forest Service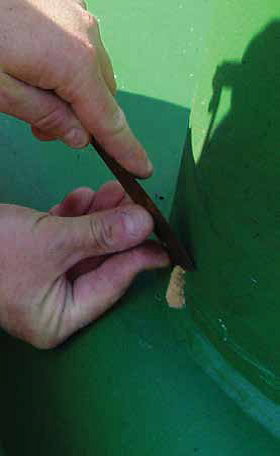 Asian Gypsy Moth: Egg mass being removed from a ship
Australian Government, Department of Agriculture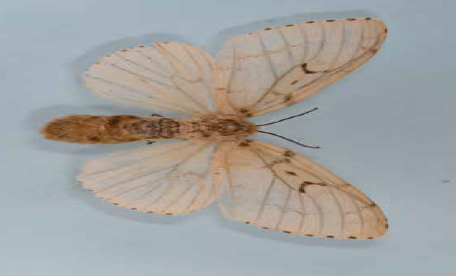 Asian Gypsy Moth: Adult
Australian Government, Department of
Agriculture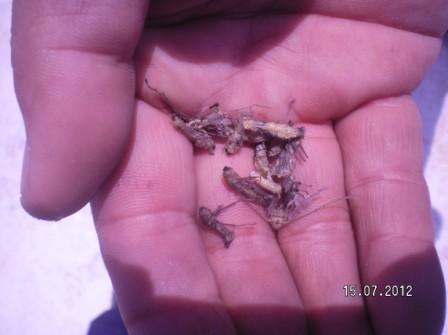 Asian Gypsy Moth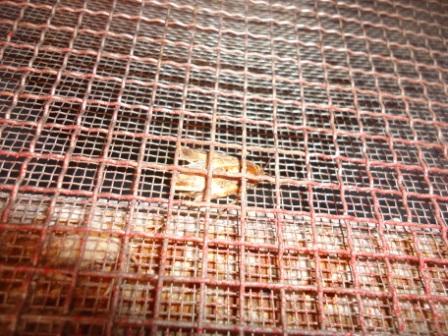 Asian Gypsy Moth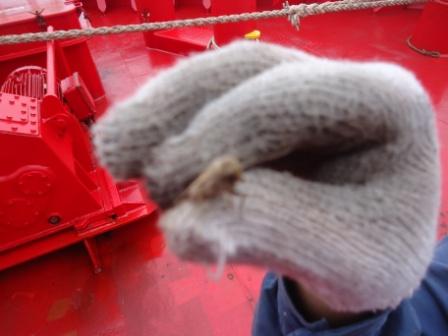 Asian Gypsy Moth
---